This is another old post for foods. Last year, when I was still in Toronto after my graduation, I tried several restaurants during Summerlicious. Summerlicious is an annual food festival held in Toronto, Canada around July, typically a slow time for restaurants, where restaurants offer a limited menu of prix fixe dinners at a discount from typical prices. It is also the golden time for the chefs to test out their new menus.
One of the restaurants that I dined in was Canoe. Located in the downtown financial district of Toronto, the restaurant offers a great view of the city. The ambience was also really great. There were actually three choices of dishes for appetiser, entrée, and dessert. However I only dined with my friend, so we can't explore everything. Anyways, let's get down to the food.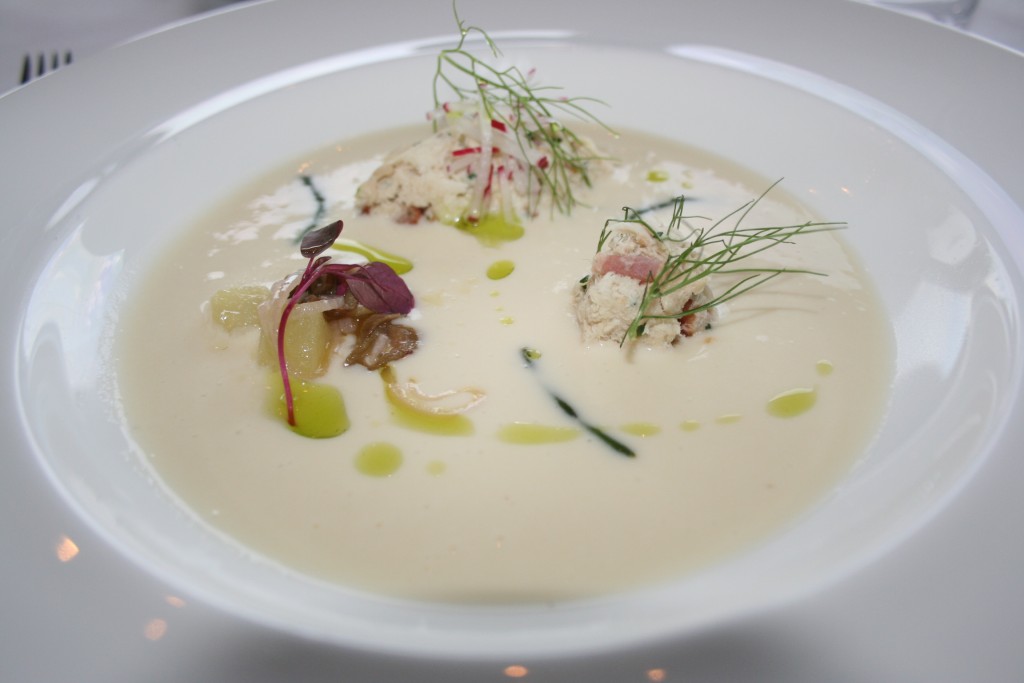 Appetiser: Purdy's Smoked Whitefish
Chilled Cookstown Potato Purée, Holland Marsh Leeks, and Double Smoked Bacon
Both him and I ordered the same appetiser. The other two choices were Ontario Bufala Mozzarella, Sweet Peas, Celery, Honeyed Walnuts, and King Crab; and Cornish Hen Terrine, Swede Slaw, Kozlik's Mustard, and Tarragon. Personally the whitefish was the one that appeals to me the most, and yes, it tasted really great. Should have chosen a different one instead though, because I could share it with my friend.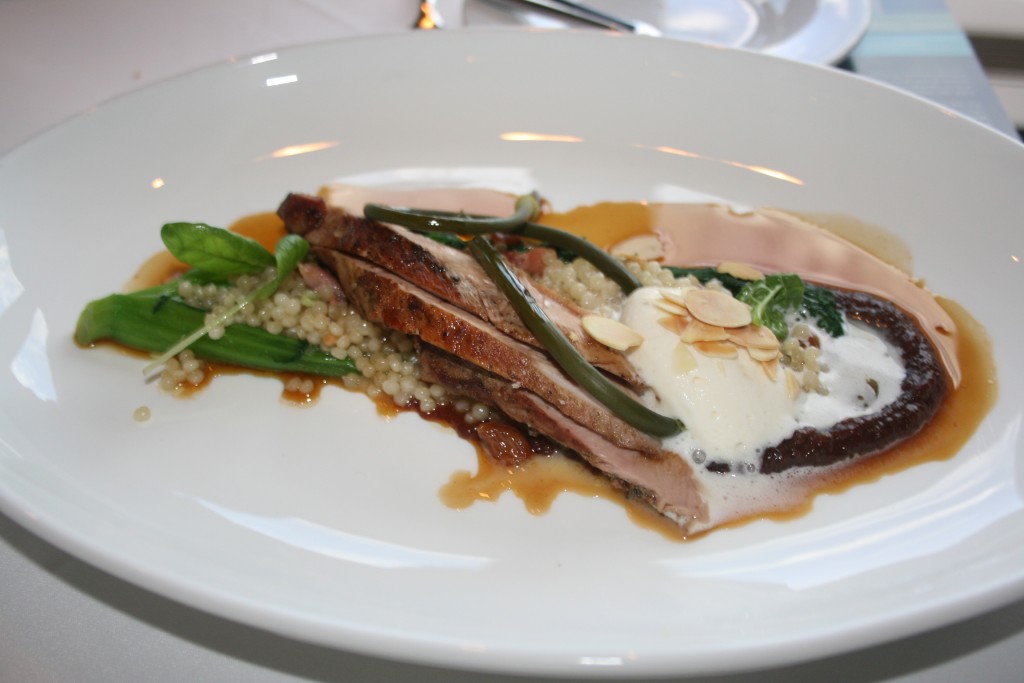 Entrée: Slow Cooked Ontario Pork Loin
Mustard Greens, Pearl Couscous, and Plum Marmalade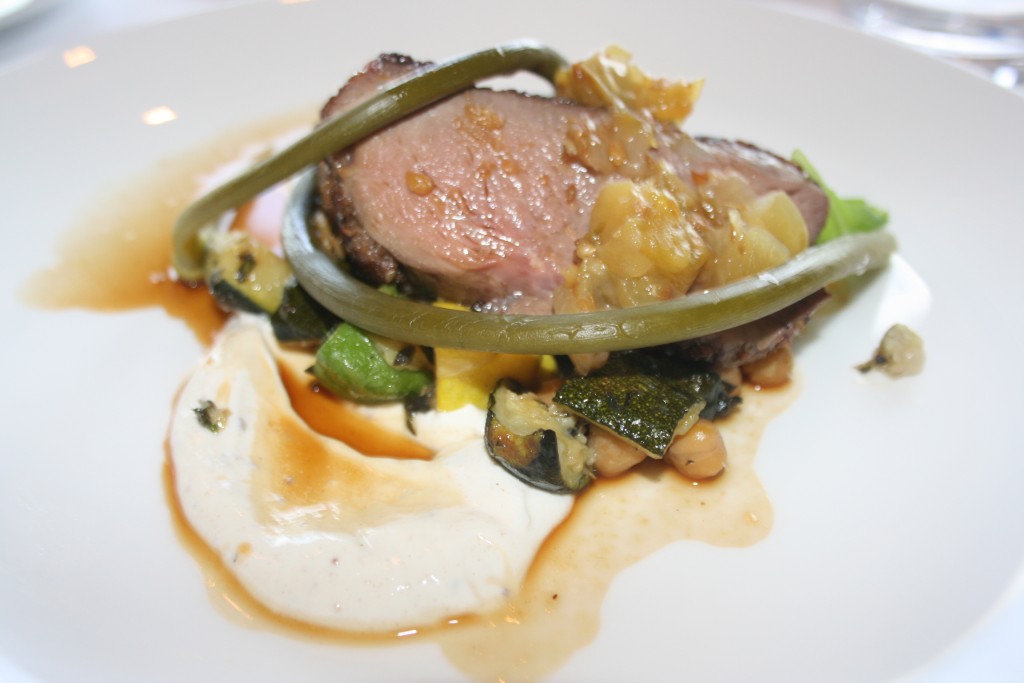 Entrée: Roasted Alberta Lamb Sirloin
Marinated Summer Squash, Chickpeas, and Caraway Yogurt
I ordered the lamb, my friend ordered the pork. The other one that didn't get chosen was Pan Roasted Great Lakes Pickerel, Charred Spring Onion, Crispy Russet Potatoes, and Stratford Corn. Both dishes tasted great. I was particularly impressed at how they roast the lamb. Still I would love to try the pickerel as well, too bad I didn't bring an extra company.
Dessert: Canoe Pecan Tart
Niagara Cherries and Crème Fraîche Ice Cream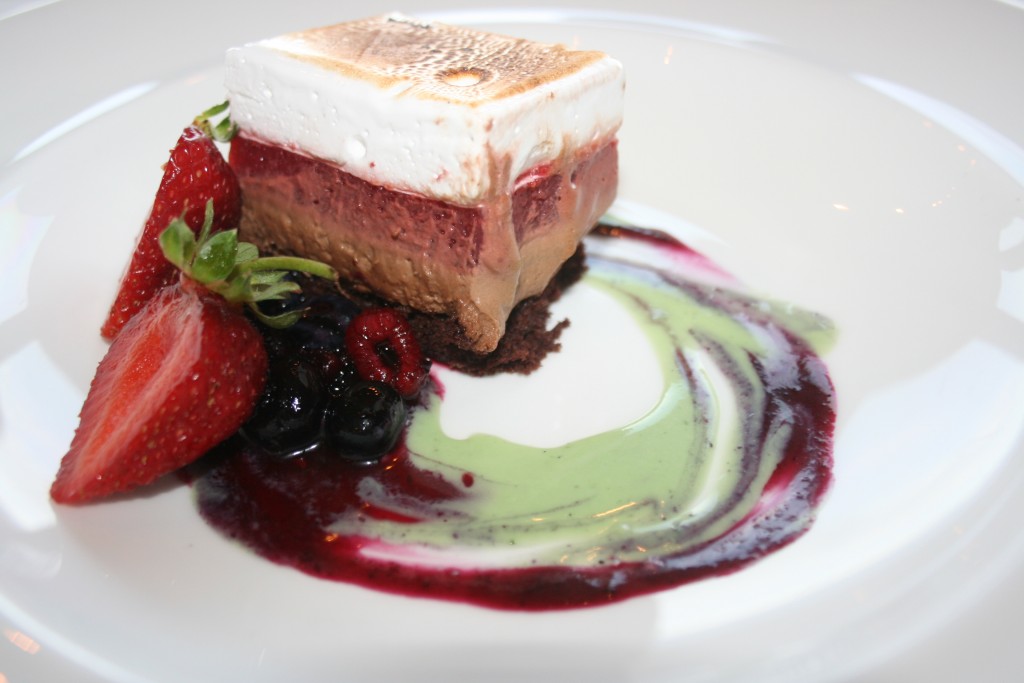 Dessert: Bitter Sweet Chocolate Terrine
Vanilla Marshmallow and Barrie Hill Farms Strawberries
I ordered the chocolate terrine, and my friend ordered the pecan tart. The other dish that didn't get chosen was Lemon Thyme and Apricot Semifreddo, Almond Nougatine. The pecan tart was okay, but the chocolate terrine was one of the best desserts I have tasted in my life. Plating wise, it looks extremely appetising. All the flavours blend together. I'd love to get more of these.
This restaurant definitely is one of the best places to get fat. Unfortunately during regular times the prices are pretty expensive. But fortunately, the food tastes really great. For once in a while, I recommended to try. However, during Summerlicious, it is a no-brainer-must-try type of restaurant. I'll be back next year to Toronto, so most definitely I'm coming back here.