This will be the first time I am posting T-shirts from Uniqlo (ユニクロ). I believe some while ago they released T-shirts from old Gundam (ガンダム) series, featuring photographs of Gundam models. I know about this release pretty late so I got all of mine from Yahoo! Auctions. This is the first of the three, featuring GAW (ガウ).
Well the design itself is pretty cool. I like how the picture is black and white and there's a striking red colour text. I also like how they put the specifications on the bottom right of the picture. Nice design overall. And fits males pretty well.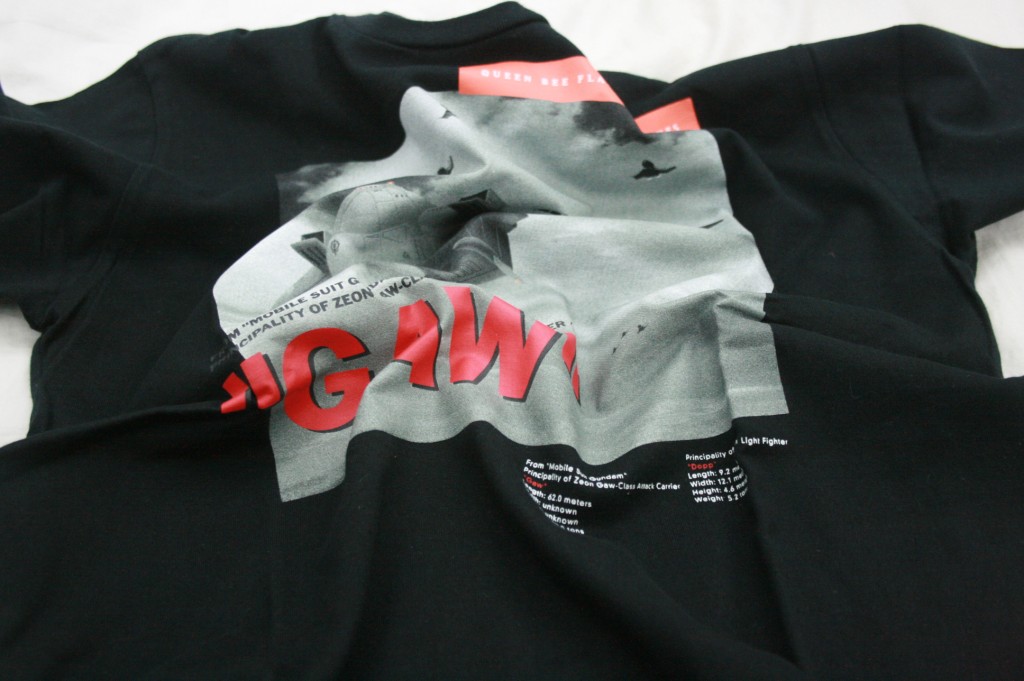 Here's the details of the printing. Uniqlo did a really great job printing the picture. It's very different from COSPA printing. This one has a lot of details. Plus it is also very soft. It has a little feel when rubbed from the outside, but it's does not feel hot when worn although there's still some print feel from the inside.
However, durability is the best thing about this T-shirt. Uniqlo T-shirts are relatively much cheaper than COSPA or any other anime T-shirts, but the print lasts really long. At a glance the printing looks like it's really easy to crack but it wasn't. I have another T-shirt that has been worn for more than 30 washes and the printing still looks as good as new.
I really hope Uniqlo releases more of these. The ones they are releasing now is from series that are not my cup of tea.